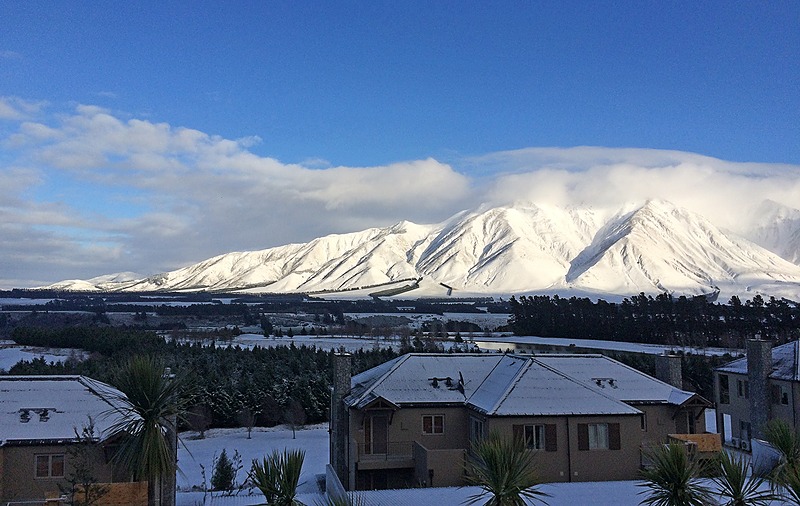 Posted June 18, 2018
First time visit - I'll be back!
I recently visited the South Island staying for the first time in the high country at Terrace Downs just an hour or so from Christchurch airport. I was staying in a fully furnished 3 bedroom villa - one of seven Canterbury High Country Villas in the complex.
When I arrived the weather was clear and the mountains looked so close you could reach out and touch them – quite majestic.
Over the next few days, it was as if the mountains put on a show for me showing me all sorts of different moods. On one day in an hour and a half we watched a storm coming through from the south – the images changed from clear to cloudy to not seeing more than 100 metres in front of you and overnight we had snow – for a former city boy this was stunning to experience and a classic example of how quickly weather can change in the high country.
During my 5 nights, there the mountains took on many moods – quite stunning in the colours of the various sunrises/sunsets depending on the light and quite different from anything else I have seen.
On one of my trips around the area I visited Lake Coleridge – wow - I did not think the lake was going to be that big – it was also very beautiful and there was no one there in early June apart from us.
Close by we visited the towns of Methven, Staveley, Hororata and Ashburton to explore and get supplies in – all within a short drive ( max 45 minutes) and it gave me chance to have a look and experience rural countryside and towns in the area. I thoroughly enjoyed my stay and will be back! The villas are luxuriously comfortable and have most if not all things covered that you would need for a weekend or a few days away. If you want to just take time out then this is a great spot to base yourself.
One thing is for certain, you will be captured as I was by the mountains close by and their ever-changing vista – simply majestic.
Greg Whyte, Waihi Beach, NZ
June 2018